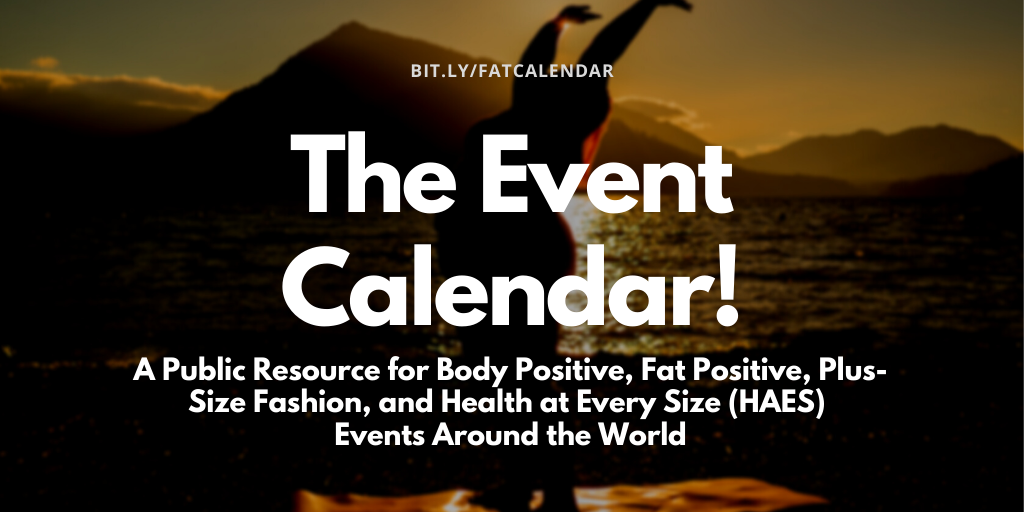 This calendar is provided as a public resource for the body positivity, fat acceptance, plus-size fashion, and Health at Every Size (HAES) communities. I'm not affiliated with any events except the ones in bold, and at this time I'm not compensated for any event listings.
Add your body- or fat-positive event: Email lindley@bodyliberationphotos.com
◇─◇──« Ongoing Events »──◇─◇
Body Love Box monthly surprise shipments
Fat Fancy FB Live sales (Portland, OR and online)
Fat Girls Hiking (Various locations across the US, Canada and UK)
Unlikely Hikers (Various locations around the US)
Hiking Club with Polly Hawver (accessible hiking, Pacific Northwest)
Promoting Body Trust in Your Work, Online
Self Love Workshop and Aerobics Classes, Online
Find Peace with Your Body, Online
TBD: CurvyCon 2020, New York City, NY
TBD: TCFStyle Expo, Atlanta, GA
TBD: NEDIC 2021
« Ways to Support Fat & Marginalized Folks »
Marley Blonsky & Kailey Kornhauser are traveling to Washington, DC in March 2020 for the League of American Bicyclists National Bike Summit , where they'll be presenting "Fat Bikers – Creating Space for Body Size Diversity in Our Bike Communities!" This is a HUGE (pun intended) opportunity for them and our bike community, but they need help paying conference registration fees, airline tickets, and housing while in DC.
◇─◇──« New Finds »──◇─◇
◇─◇──« January 2020 Events »──◇─◇
Starting in January and February: Liberating Jasper support groups, Tacoma, WA (Building Body Trust, Attuned Eating, Eating Disorder Community Group, LGBTQ+ ED Community Group, Superfat Community Group, Calming the Inner Storm, Monthly Meal Planning, LGBTQ+ Youth Community Group, Provider Support Groups)
January 4: Body Positive Movement Class, Tacoma, WA
January 6: No Diets in the New Year: A Virtual Support Group for Folks Leaving Diet Culture, Online
January 10: Ragen Chastain and the FATCH standup comedy troupe at the Upright Citizens Brigade Theater on Sunset, Los Angeles, CA
January 11: Creating a Healthy Sports Culture, Seattle, WA
January 13: No More Weighting: The Body Trust® E-Course, Online
January 14: A Kids Book About Body Image Reading & Release Party, Portland, OR
January 17: Rooted Heart Healthcare Community Dinner and Gathering, Kent, WA
January 23: Anti-Diet with Christy Harrison, Alley Cat Books, San Francisco, CA
Starting January 23: Fat Girls Hiking, Oregon: Winter Retreat, Welches, OR
Starting January 24: HAES/Fat Positive Supervision Group for Eating Disorder Providers, Online
January 25: Anna Chapman guest styling at Universal Standard, Portland, OR
January 25: Size-Inclusive Snowshoe Adventure, Nederland, CO
January 28: Men's Body Trust Group begins, Online
January 30: Libertease: The Final Countdown, Jersey City, NJ
Late January: Becoming Eating Disorder Aware: A Training Series, Online
◇─◇──« February 2020 Events »──◇─◇
February 1-28: Black History Month
Sign up by February 1: Rock the Road Coaching Program from Ragen Chastain and Jeanette DePatie, Online
February 2: Fat Kid Dance Party, Seattle, WA
Sign up by February 3: Body Image Remix with Summer Innanen, Online
February 6: Radical Self Love Life Lift Retreat with Sonya Renee Taylor, Brookby, Auckland, NZ
February 6-7: Freeing the Body Narrative (Professional Training), Portland, OR
February 7-8: Weight Inclusive Nutrition and Dietetics (WIND) Workshop, New York, NY
February 7-9: February Giant Storewide & Bag Sale, Two Big Blondes Consignment, Seattle, WA
February 12: Holistic Body Positive Workshop, Wynnum QLD, Australia
Starting February 13: Body Love Journey Yoga Program, Online
Submit by February 15: Call for papers, Fat Studies Conference
February 23-26: Reclaiming Body Trust Retreats, Stockbridge, MA
February 24-March 1: National Eating Disorders Awareness (#NEDAwareness) Week (NEDA Week)
February 28: NEDA's 1st Annual In-District Advocacy Day, anywhere in the US (no experience needed)
February 29: Fat Crafternoon by The Fat Kid Crew, Redwood City, CA
February 29: Size Inclusive Snowmobile Adventure, Winter Park, CO
◇─◇──« March 2020 Events »──◇─◇
March 1: Zero Discrimination Day (LGBT)
March 7: Chub Hub A-Go-Go, Portland, OR
March 7-8: BOPO Expo, Toronto, Canada
March 8: International Women's Day
March 8-10: Reclaiming Body Trust Retreats, Detroit, OR
March 11-17: The Body Trust Summit, Online
March 13-15: Fat Adventure Club, Oregon Coast: Spring Yurt Retreat, Tillamook, OR
March 14: Foundational Skills of Motivational Interviewing, Kenmore, WA
March 31: International Transgender Day of Visibility
Last week of March: LGBT Health Awareness Week
◇─◇──« April 2020 Events »──◇─◇
April 3-5: Do Different: Expanding Movement Options // An accessibility and possibility training for movement educators by Dawn Ross: Bit By Bit Bodyworks and Body Positive Yoga by Amber Karnes, Calgary, AB, Canada
April 5: Heavy Flow with Lindy West and Samantha Irby, Seattle, WA
◇─◇──« May 2020 Events »──◇─◇
May 4-7: Body Trust Provider Certification Training Program (Professional Training), Portland, OR
May 6: International No Diet Day (INDD)
May 11: Eat What You Want Day
May 14-15: Responsive Feeding Therapy Conference, Dallas, TX
May 16: NEDA Walk, Seattle, WA
May 17: International Day Against Homophobia, Transphobia and Biphobia
May 22: Harvey Milk Day
May 29-30: Reclaiming Body Trust Retreats, Portland, OR
◇─◇──« June 2020 Events »──◇─◇
June 18-19: Fat Studies Conference, Auckland, NZ
June 21: National Selfie Day
June 22-23: 8th Annual Weight Stigma Conference, Auckland, NZ
◇─◇──« July 2020 Events »──◇─◇
July 2-5: Intro to Backpacking for Plus-Size Hikers, The Long Trail, VT
July 3: Compliment Your Mirror Day
July 5-10: Body Wise Retreat with Kimberly Dark, Big Island, HI
July 14: International Non-Binary People's Day
Starting July 17: Big Bliss Yoga in Pacific Grove, CA
July 24: Self-Care Day
◇─◇──« August 2020 Events »──◇─◇
Starting in August: Skill in Action 300hr Yoga Teacher Training (Social Justice Oriented), Winston-Salem, NC
◇─◇──« September 2020 Events »──◇─◇
September 19: International Talk Like a Pirate Day
September 25-27: Radical Health Alliance's Rad Fat Adventure Camp at Camp Courage in Maple Lake, MN
◇─◇──« Further Out »──◇─◇
October 4-10: Mental Illness Awareness Week
October 11: National Coming Out Day
November 20: Transgender Day of Remembrance
December 1: World Aids Day
January 10-15, 2021: Body Wise Retreat with Kimberly Dark, Big Island, HI
◇─◇──« Past Events & Finds »──◇─◇