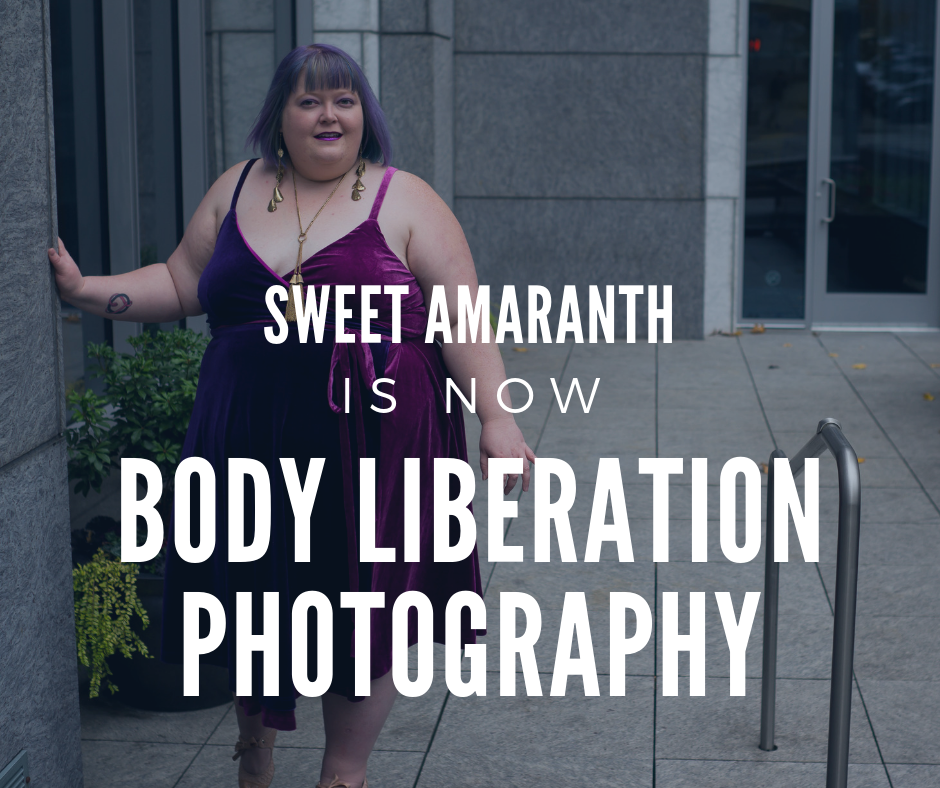 "Oh, phew," said the client I'd just finished photographing yesterday, as we stood in her office. "That makes so much more sense. I found you by googling for 'body positive photography' anyway — this is much more clear."
I'd just told her that I'm changing my website and brand, and she immediately picked up on the reason: coherency.
Back in 2015, when I started Sweet Amaranth Photography, body-positive photography was much more rare — and to be honest, I wasn't sure how it would go over with potential clients. I chose a name I was fond of, that I'd considered for a previous business, that I was also sure wasn't going to put anyone off. I'd draw them in with pretty pictures and gently introduce them to body acceptance along the way.
I still love the name Sweet Amaranth, but over time, it's become not just a bit confusing for clients who find me through body-positive or fat-acceptance sites, but incoherent with who I am, what I do, and my ethical grounding.
Here's the pledge I come back to before working with each and every person:
» View human bodies — all of them — with honesty, joy and compassion» Seek out a wide range of people who aren't trained models for my portfolio images

» Don't talk about "problem areas" or "flaws;" even if those were a thing, they're irrelevant

» Don't strive to make bodies look smaller than they actually are

» Don't digitally remove permanent aspects of people's bodies like fat rolls or wrinkles

» Honor the body that each person has in this moment, in all its beauty and uniqueness

» Strive to capture a wide range of body types, shapes, sizes, colors and orientations in my portfolio work, both to increase the representation of people in underrepresented bodies and to make clients in any conceivable body feel safe working with me

» Use poses that are reasonably comfortable for each person's body shape and size, rather than slavishly imitating only poses that very thin people use

» Feature a full range of client and portfolio images on my website and in my social media, not just "aspirational" bodies
Having a name that doesn't immediately reflect that commitment was holding me back.
I spent the first part of this year thinking about business names that would reflect my true purpose. Something with the words "fat" or "fat positive" in it was tempting, but not only are fat folks not the only ones who need this type of photography, fatness is only one of many intersections of bodily existence to be honored.
"Body positive" is also a nice phrase, but it doesn't go far enough to be coherent. Everyone deserves to feel positive about their current body, but that's not always the emotion that surfaces when we look at our bodies captured in a moment, and that process and journey should be honored, too.
Again and again, I returned to the concept of body liberation. Dr. Linda Bacon explains it well:
"Body liberation. Rather than just expanding the beauty ideal to become more inclusive, let's work towards freedom from relying on beauty to find value." » Dr. Linda Bacon
Bodies don't require beauty, or attractiveness, or prettiness, or compliance with beauty standards in any way to be photographed. All they need to do is exist.
I've been slowly, secretly working on the new Body Liberation Photography website. I'd been putting off announcing the switch until I return from my big trip in June, but last week a plug-in on my old website developed a bug, breaking almost every image on the site. It was a clear sign: It's time.
Please enjoy the new Body Liberation Photos website and the new, deeper, more open commitment to honoring every body through photography. I'm slowly moving existing blog posts to the new site and updating them, so you may see some mentions of the old business name or find broken links on the blog. Please be patient with me (and, if you'd like, send any notes about site issues to [email protected]).
I'll also be announcing the release of a new line of fat-positive fine art prints in July, so stay tuned!
In solidarity,
Lindley
Hi there! I'm Lindley (she/her, pronounced LIN-lee). I create artwork that celebrates the unique beauty of bodies that fall outside conventional "beauty" standards at Body Liberation Photography. I'm also the creator of Body Liberation Stock, which provides body-positive stock photos for commercial use, and the Body Love Shop, a curated central resource for body-friendly artwork and products. Find all my work at http://www.bodyliberationphotos.com.