One of the best things about summer is water: swimming, splashing, wading, dancing, drinking, flavoring, floating, fishing, boating, or soaking in it!
The larger your clothing size, though, the more challenging it can be to find a swimsuit you find comfortable or beautiful. For folks who wear clothing sizes larger than are generally carried at brick-and-mortar stores — even plus-size stores — finding a bathing suit can be a real summer-joy-hindering pain.
Here are over 10 places for people who wear over a size U.S. 32 (who might identify as superfat or infinifat) to find both feminine and masculine-styled bathing suits, swimsuits and swim trunks.
(All sizes and prices are in U.S. measurements unless otherwise noted.)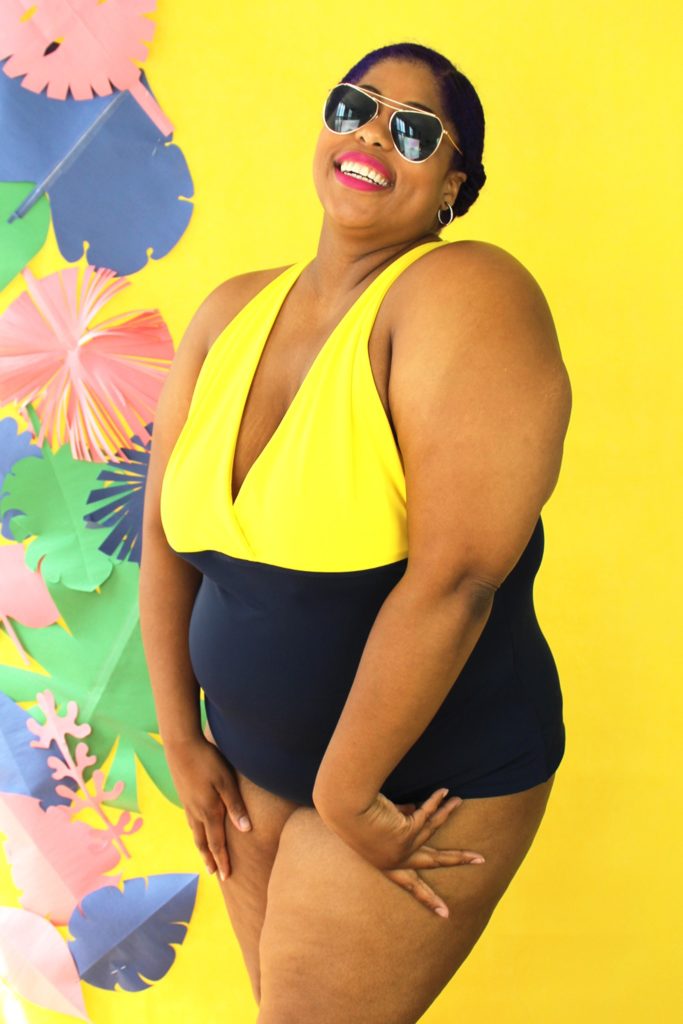 SmartGlamour
Largest size: 15X+ (86-88″ bust, 88-90″ hip) and custom measurements
Smallest size: XXS (30-31″ bust, 31-33″ hip)
Size chart

Price range: Around $8-70
SmartGlamour is a body liberation activist's dream: clothing truly designed for ALL bodies, custom measurements offered, and models in lots of sizes and shapes. Owner Mallorie Dunn says:
"SmartGlamour is for everyone – truly. So why wouldn't our models represent that visually? On this website you'll find people of all shapes, sizes, heights, weights, ability, ethnicity, age, and identity.
There is not a single person who is not welcome to model for us. We will never crop out our model's heads, make them model without their glasses, or depict them in a negative, weak, angry, or bored light. Our models are also never, ever photoshopped or airbrushed."
» Mallorie Dunn

Shop: SmartGlamour with code SGLindley for 10% off + free shipping!*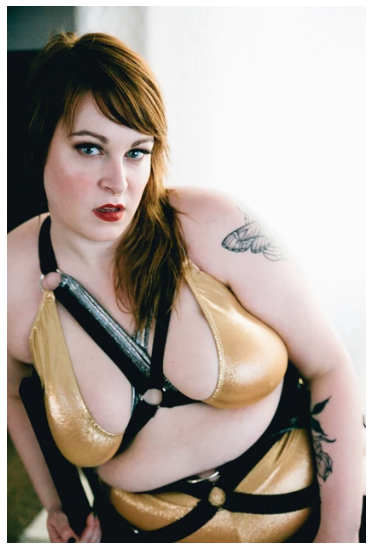 Bawdy Love
Largest size: Custom measurements
Smallest size: Custom measurements
Size chart: None

Price range: Around $95-165
Seattle-based Bawdy Love recently expanded from their searingly-hot lingerie harnesses into full-on swimwear. These custom-made pieces are not only sexy as hell, they're flexible enough to accommodate changes in weight and body size.

Origami Customs
Largest size: 5XL (60″ chest, 63″ hip) plus custom measurements
Smallest size: XXS (30″ chest, 33″ hip)
Size chart

Price range: Around $28-65
One of the most socially-conscious lingerie and swimwear brands I've come across, Origami Customs makes lingerie designed for all genders. The owner says, "As a Non-Binary Queer Femme with a Transmasculine partner, I care deeply about the needs of the community, which is why I offer completely customizable items for people across the gender spectrum."
All items are handmade in Montreal and sustainable "slow fashion." This is a great option for plus-size queer and trans folks.
Shop: Origami Customs
Plush Cat Style/Big on Batik
Largest size: 5X/6X, (cups DD thru F/G, up to 75″ hips)
Smallest size: 1X/2X (cups A/B thru C/D, 35-55″ hips)
Size chart
Price range: Around $25-70
A true indie classic, Satu Vuorenmaa's Plush Cat Style offers string bikini tops modeled on people at the high end of plus size for a realistic view. Her other site, Big on Batik, offers similar pieces.
Shop: Plush Cat Style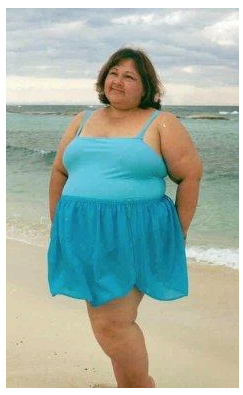 Love Your Peaches
Largest size: 6X (34/36 or 62-70″ bust, 68-76″ hips) plus custom sizing
Smallest size: 1X (14-16 or 39-42″ bust, 40-48″ hips)
Swimwear FAQ
Size chart: On individual items
Price range: Around $45-150
Love Your Peaches swimsuits are designed and sized by an actual plus sized woman, and they are designed with tummies and breasts and bums in mind. This company also offers more modest options with skirts, elbow-length sleeves and knee-length swim shorts.
Shop: Love Your Peaches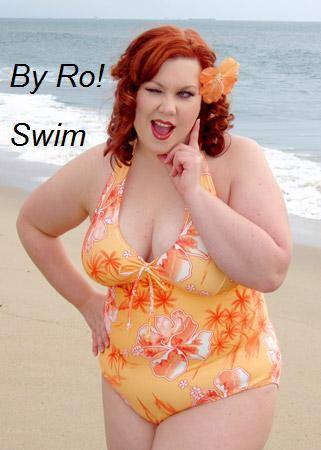 By Ro! Designs
Largest size: 6X (38-40) bust: 64-67 waist: 55-58 hips: 66-70
Smallest size: 1X (18-20) bust: 44-47 waist: 35-38 Hips: 46-49
Size chart
Price range: Around $50-130
Rosaria Vitale is one of the OG fat bikini creators. My own first bikini, bought for my first trip to Hawaii — with a deep blue background and Hawaiian flower design — came from Ro, and she has a small but devoted following.
The best way to access Ro's work is by joining her public Facebook group, where she posts new items.
Here's how Ro describes her work:
"Swimsuits and cover-ups for Big, Beautiful, Beach Babes. Original designs, one-of-a-kind or very limited runs. Bikinis, both low and high rise, crop tops, halter, triangle tops, fatkinis, skirtinis, monokinis, one-pieces and so much more. Made from nylon/lycra spandex, using high quality threads, elastics and notions. Double lined with princess seams and circle skirts. All in sizes 1X-6X. Please be sure to check back often!"
Shop: By Ro! Designs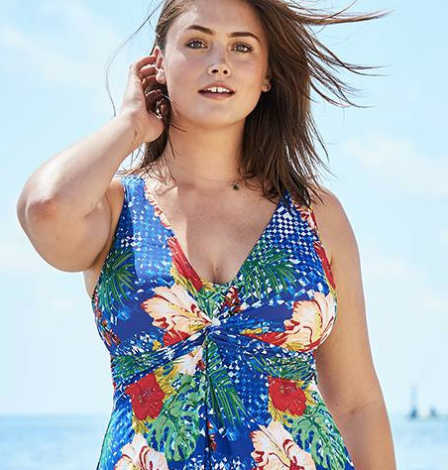 Full Beauty, Jessica London, Woman Within, & Roaman's
Largest size: 46/48 (75″ bust, 77″ hips)
Smallest size: 10/12 (39″ bust, 41″ hips)
Size chart
Price range: Around $20-150
Full Beauty offers a wide variety of swimsuits with a department-store look and feel, including one-piece and two-piece bathing suits, swim skirts and capris, board shorts, swim tees, swimdresses, skirtinis, tanks, and cover ups. Some of the designs are a little dated and their marketing emphasizes "control" and "concealment" of the body, but the site offers up to a size 46/48.
The company also owns the brands Jessica London, Woman Within, and Roaman's, so I've grouped them here. All the sites can be reached from the main Full Beauty site.
Shop: Full Beauty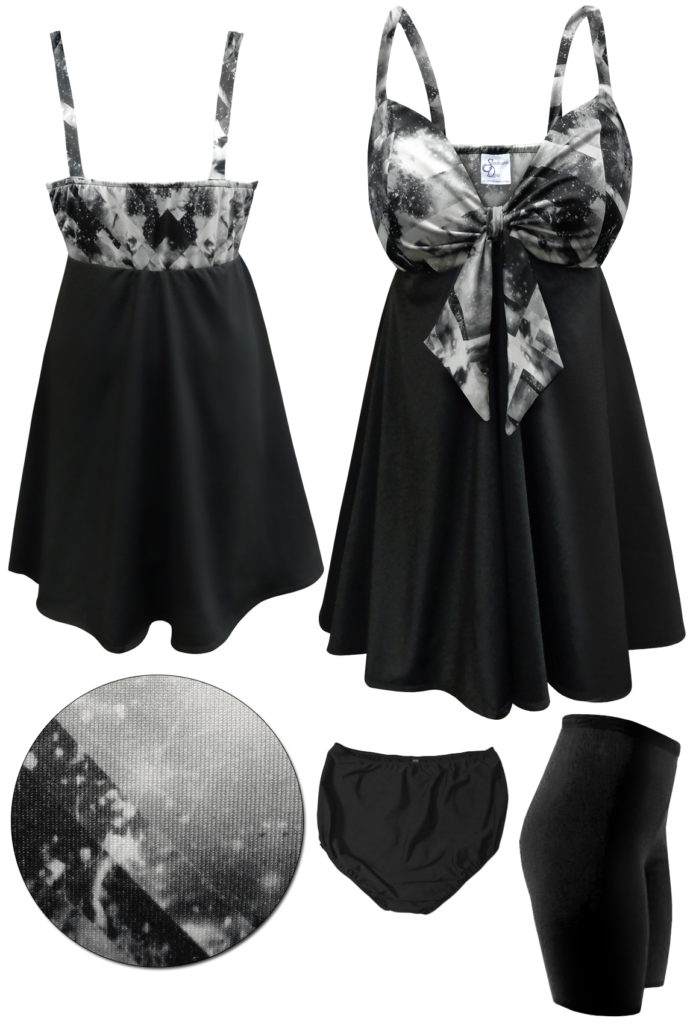 Sanctuarie Designs
Largest size: 9X
Smallest size: 0X
Size chart: On individual items
Price range: Around $45-50
This indie website offers swimsuits in cute babydoll, halter top and bikini styles, plus sarongs, pareos, swim shorts, and beach totes. The site accommodates rush orders, and some designs are extremely customizable right through the site.
Sanctuarie offers a really neat feature when ordering: You can customize both the top and bottom size for a one-piece suit, so folks who wear a different size on top and bottom can find a suit that actually fits.
Shop: Sanctuarie Designs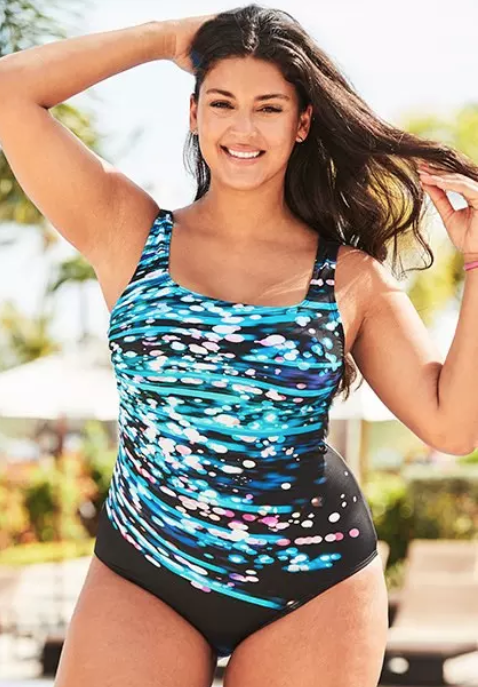 Swimsuits for All
Largest size: 40
Smallest size: 4
Size chart: On individual items
Price range: Around $30-125
Swimsuits for All offers a range of one-piece and two-piece bathing suits, swimming trunks, swim shirts, tankinis, bikinis, cover-ups and dresses — including chlorine-resistant lap swimming options. Though the designs at the top end of the range are limited, the site does go up to a size 40.
Shop: Swimsuits for All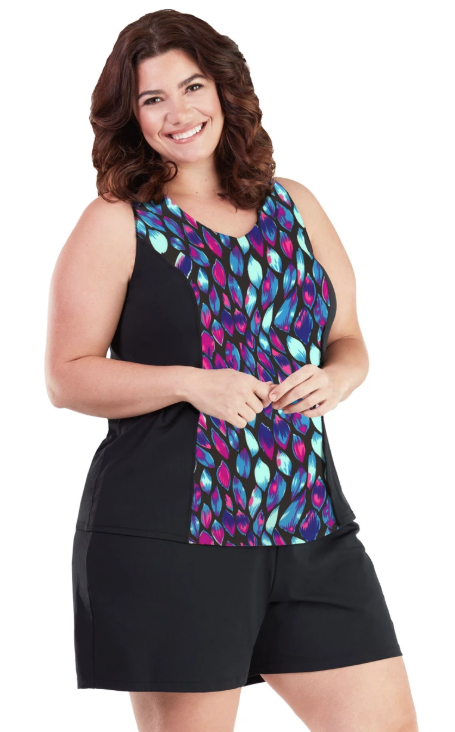 JunoActive
Largest size: 6X or 38/40 (64-66″ bust, 68-70″ hip)
Smallest size: XL or 14/16 (40-42″ bust, 44-46″ hip)
Size chart
Price range: Around $70-140
Previously known as Junonia, JunoActive has a reputation for durable, smartly-fitted athletic wear for large bodies.
One of the folks who contributed ideas for this roundup says, "I'm a 30/32 and that's all I wear for swimming laps etc. I pair their tankini tops with their quick wick shorts."
Shop: JunoActive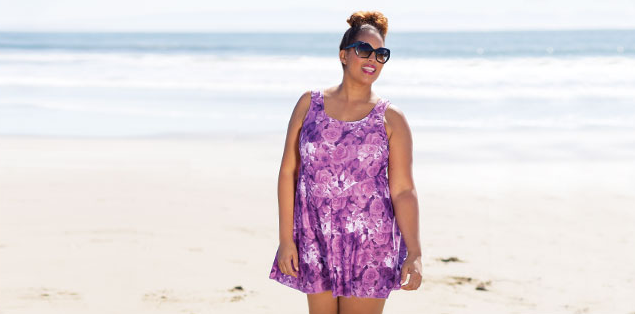 On the Plus Side
Largest size: 8X or 46/48 (72-76″ bust, 78-82″ hips)
Smallest size: 2X or 22/24 (47-48.5″ bust, 53-54.5″ hips)
Size chart
Price range: Around $59-118
This site focuses exclusively on plus sizes. Among its most highly-rated swimwear pieces are a number of Chloroban brand swim tops and skirted swimsuits, which have an SPF of 50 and are chlorine resistant. There's even a triathlon-style zipper-front swim tank offered up to 5X.
Shop: On the Plus Side
KingSize
Largest size: 10XL (82-84″ chest, 78-80″ waist)
Smallest size: XL (42-44″ chest, 38-40″ waist)
Size chart
Price range: Around $20-80
Venerable men's big and tall clothing store KingSize offers more masculine styles, with swim trunks, cargo swimming shorts and swim polos in plain, patterned and Hawaiian-print styles.
Shop: KingStyle
Have a source for superfat or infinifat swimwear you haven't seen here? Add it to the list in the comments!
*This is an affiliate link. If you choose to purchase an item using this link, it helps me offer these resources. Thank you!
---